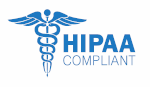 If you need a HIPPA compliant file storage and sharing service for professional use, for example a private healthcare practice, you found one.
We use the best practices to ensure HIPPA compliant file storage and collaboration with colleagues and clients.
However, according to HIPAA, the responsibility for personal information lies on Covered Entity, therefore you should use our tools correctly, to considered HIPAA Compliant.
How to stay HIPAA compliant
Perform regular software updates and do not follow links from strange emails, in order to minimize risk of phishing attacks
Do not store passwords as plain text, in order to prevent possible unauthorized access
If you lost device with personal data, hurry to notify authorities, as information from that device could appear on black market, monitored by security agents.
Make sure your employees sign NDA, so they do not share personal information
You need to encrypt personal health information prior to uploading it to any service in the Internet, this allows you as a Covered Entity to remain HIPAA compliant.


Transmit PHI through secured channels
LightUpon.Cloud encrypts information, transferred over the Internet and can perform end-to-end encryption, if you configure our app to do so, but the responsibility for PHI safety remains on Covered Entity ( on you ).
We will sign a Business Associate Agreement (BAA) so you can legally use LightUpon.Cloud for storing PHI.