Securely manage your data storage using any browser.
The best team collaboration tool, tailored for architects, landscape designers, photographers, journalists, private healthcare practices and data-based companies. Replaces alternatives on your computers and gives you control where to store your data.
Register tenants and users, their credentials and groups, defining what data containers they should have access to.
Keep track of file changes and user actions.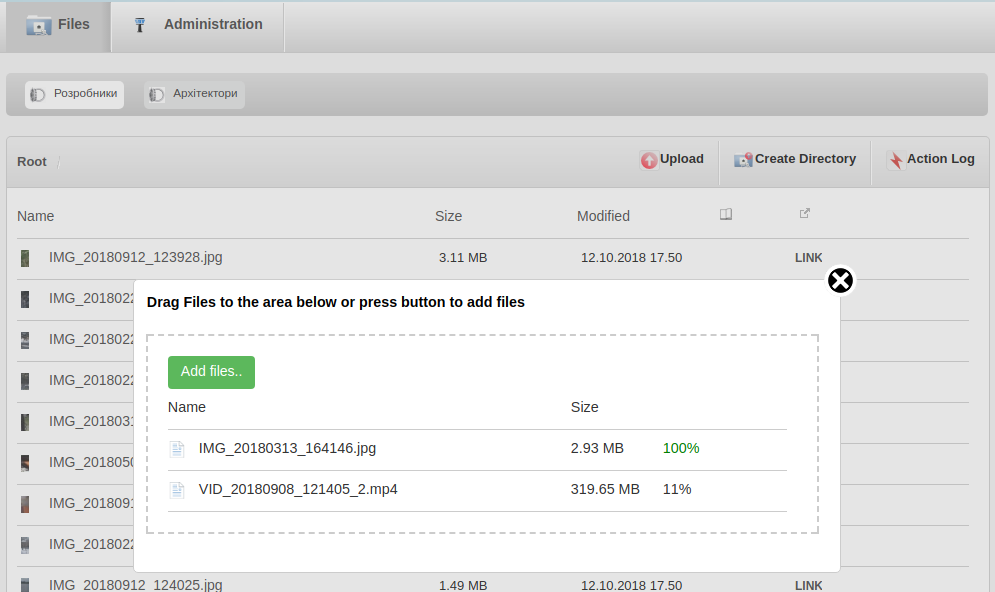 Private File Sharing
Enables on-premises disaster data recovery
Scales automatically
Highly available

Team Collaboration
Sharing files of any size
Locking files you work on
History of changes
Full-text search
Simple storage
Media workflows
HD video uploads
Store live streams
Simultaneous data replication to multiple clusters (CDN, analytics, transcoding, etc.)

multi-datacenter distribution
Distribute data across many different locations
Address issues related to compliance (GDPR, CCPA, etc.), performance, latency, etc.
Why
Light

is better than "cloud"
Increase Speed x10
Services are usually hosted close to cloud providers, in order to keep up with the load.
Light
We allow you to host our server close to where you are for free. You will receive all the benefits of collaboration tool and assistance.
Cloud
Even if you are close enough to the regional cloud datacenter ( 30 km optimal distance ), connection speed is often suboptimal, as provider limits bandwidth.
Reduce Costs
Most storage systems are complex, they have hidden charges, undocumented features and undefined behaviours. The AWS behind Dropbox is one example of such poorly documented system.
Light
A fixed-price service. No hidden charges.
Free chat support.
We charge nothing when you host on your premises.
Cloud
They force you to pay for what you never use: traffic, reserved expensive hardware and "support plans" with slow response times. Calculate your savings.
Users: Space (TB):
You save $ yearly.

Increase Trust of Users
GDPR, HIPAA, PIPEDA, CCPA, SOC 2, NYDFS, FINRA. When corporation uses those abbreviations they really guarantee safety of the CEO in case of lawsuit.
The provider could still share your data with third parties without asking you first.
Light
We do not pass on your personal data to anyone else. Our system is open-source, it was built using best-practices in information security and ethical technologies.
Cloud
Massive data breaches, sharing user data with advertisers, training AI on your data or silently leaking them to your competitors. Total lack of transparency.
Most of providers never share technical aspects nor what values they stand for.
Reduce Risk
Corporations do not have any reason to overpay for security of your data. User data from many services had leaked to the Internet already.
We recommend you to inquiry on how provider stores your data.
Light
We don't mind you hosting your data on any technical site you trust.
We offer an open-source software with simple and efficient architecture. It can work for decades without restarts.
Cloud
"Cloud" cannot be reverse-engineered. At the same time you are not protected from disaster, as providers do not take responsibility for your data. Would your company survive data loss ?
Reduce Time to Market
Proprietary APIs, different data formats, development costs and no data visibility can affect the time necessary to test your product on the market.
Light
Very easy to integrate to your product, as LightUponCloud uses already established standards, best-practises and protocols in order to allow you to start uploading and serving data ASAP ( S3 API, JSON etc).
Cloud
Bloated proprietary APIs, entangled interfaces with undefined behaviours. All this makes integration task difficult.